A Study on Creative Visualization in Sports
In one of the most well-known studies on Creative Visualization in sports, Russian scientists compared four groups of Olympic athletes in terms of their training schedules:
Group 1 = 100% physical training;

Group 2 - 75% physical training with 25% mental training;

Group 3 - 50% physical training with 50% mental training;

Group 4 - 25% physical training with 75% mental training.
Group 4, with 75% of their time devoted to mental training, performed the best.
Source: Karate of Okinawa: Building Warrior Spirit, R. Scaglione, W. Cummins
Imagination and Creative Visualization
Imagination is your ability to create an idea, a mental picture, or a feeling sense of something

Creative visualization is using your imagination to create a clear image, idea or feeling sense of your goal.
Creating Inevitable Success: 5 Steps
Set your brain on the path toward achieving your goal so that it's working on it all day long – traveling the actual path will then become much easier

Vividly imagine that you have already achieved your goal, then walk back and examine the pathway toward your goal... More
By: Brian Tracy
Visualize Your Goals: To trigger your imagination, write out a clear description of your ideal end result or goal. Be clear about the goal, be flexible about the process. Think about it, visualize it as realized over and over. Project your mind forward to the picture of the realized goal and then look back to the present... More

Smart & Fast Ten3 Mini-course ► Learn & Teach – FAST!
70 slides + 70 half-page executive summaries
Why Creative Visualization?
Creative visualization helps you use your natural creative imagination in a more conscious way to create a clear image, idea or feeling sense of what you really want and to achieve your goal by focusing constantly on it and giving it your positive energy until it becomes objective reality.
Take a few minutes right now to achieve your goals in your mind. Imagine a life that is exactly as you want it. What would you do each day? With whom would you do it? Nothing is too crazy or ambitious. A few seconds is all it takes to put you in a state of excitement and enthusiasm. If you can see your goal in your mind, you can make it a reality. Visualization is the first step to bringing a dream to life. If you can see yourself happy, successful, healthy and loving life, you can make it happen. The first step is to visualize it.4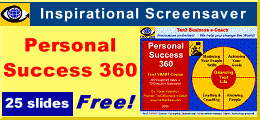 Start with visualizing clearly your future success and model the feelings you'll experience when you achieve it... More
12 Simple Ways To Supercharge Your Brain
Develop Imagination. Greeks mastered the principle of imagination and association to memorize everything. This technique requires one to develop a vivid and colorful imagination that can be linked to a known object. If you involve all your senses – touching, feeling, smelling, hearing and seeing in the imagination process, you can remember greater details of the event.... More
How To Realize Your Dreams: 4 Principles
In the original Chicken Soup for the Soul, Jack Canfield tells the story of Monty, who was the son of an itinerant horse trainer of little means. During his senior year he was assigned a writing project to describe what he wanted to be when he grew up.
His seven-page essay minutely detailed the 200-acre ranch he wanted to own. It included a diagram of the ranch and a detailed floor plan of his 4,000 square foot home... More

Your Intention
Your intention determines how successfully creative visualization will work for you in any given situation. Your intention is a synergistic combination of three elements1:
Desire. You must have a true desire to have or create that which you have chosen to visualize.

Belief. The more you believe in your chosen goal and the possibility of attaining it, the more certain you will be to do so.

Acceptance. You must be willing to accept and have that which you are seeking.
The clearer and stronger your intention, the more quickly and easily your creative visualization will work.
The Power of Positive Beliefs
What you create through your thoughts is a belief system, and that belief system is ultimately what determines whether you live a successful life. The key to changing your belief system is changing your thoughts.
A successful man is "constantly picturing to himself the success of his undertakings and he is backing up his vision by his efforts. By clinging to his vision, by vigorous resolution and persistent, determined endeavor he is continually making himself a powerful magnet to draw his own to him. Consciously or unconsciously, he is using the divine intelligence or force by the use of which every human being may mold himself and his environment according to the pattern in his mind."3