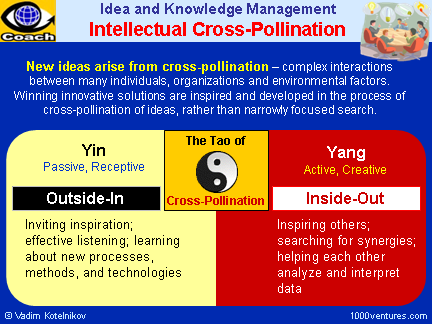 Cross-pollinate. Incorporate a wide range of styles, skills, and perspectives to inspire and develop winning innovative solutions. Encourage comments and ideas. Inspire advocates and critics. Invite outsiders – experts, customers, suppliers, partners. Change hats to generate and evaluate ideas.... More
| | |
| --- | --- |
| | Discover much more! |
Case in Point Nokia
Nokia has an informal rule that no one should eat lunch at their desk or go out for lunch. People are encouraged to eat in the subsidized cafeterias and to mix with people from outside their department. They have found that the informal meetings across departments are beneficial in sharing ideas and understanding.
Case in Point Oticon
An impromptu setting can help spark cross-pollination of ideas and team chemistry. "When the Danish hearing-aid company Oticon discovered that spontaneous interactions between employees located on different floors were taking place on stairwells, the firm wisely broadened the stairs to encourage the multidisciplinary interchange," says Tom Kelley, the author of The Art of Innovation,
Cross-pollinate Within Your Organization
To face today's complex challenges, you need to incorporate a wide range of styles, skills, and perspectives, and build knowledge communities. In the new era of systemic innovation, it is more important for an organization to be cross-functionally excellent than functionally excellent. Firms which are successful in realizing the full returns from their technologies and innovations are able to match their technological developments with complementary expertise in other areas of their business, such as manufacturing, distribution, human resources, marketing, and customer relationships. To lead these expertise development efforts, cross-functional teams, either formal or informal, need to be formed. These teams can also find new businesses in white spaces between existing business units... More
Cross-pollinate with People Outside Your Organization
Sharing ideas and observations with an outside board of directors, consultants, lawyers, accountants, bankers, and peers will help you to build your cross-functional excellence, to broad your perspective in a complex environment, and keep solutions on-target. Exchange of ideas among peers, e.g. within networking groups, such as executives organizations, is not only useful within an industry; it is also a means of learning about best practices in related industries.
Sharing company information once protected as proprietary has become a common practice – in strategic alliances, partnerships, joint ventures and other linkages that may involve even your competitors.
Today, it is difficult for one business to have all answers, but when you network and link with multiple companies to bring total solution to your customers, you become a much more valuable supplier... More

Smart & Fast Ten3 Mini-course ► Learn & Teach
80 slides + 80 half-page executive summaries

See contents Instant download!

Buy now!